Tag Archives:
Prostate FTC disclosure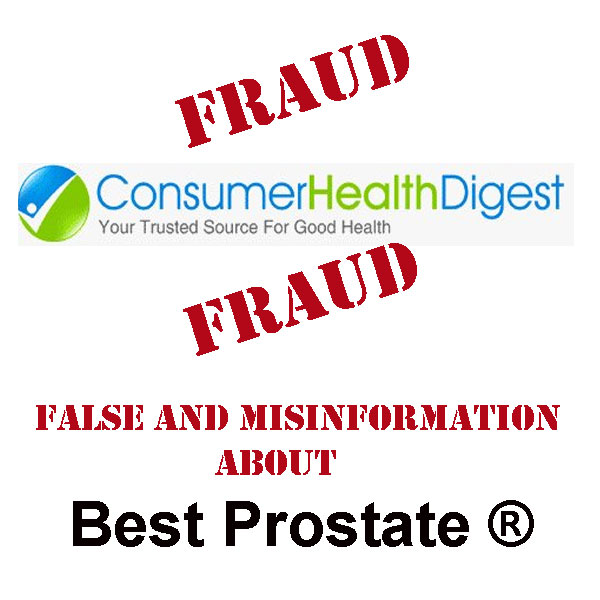 Fraud and not an honest Best Prostate review.  ConsumerHealthDigest.com uses lies and false information to make consumers buy from their advertisers.  The FTC Disclosure statement explains that.  Interesting though is what other sites say about ConsumerHealthDigest.com.
It's sad that you the consumer is lied to so that these websites can make money by getting you to buy from their sponsors or advertisers.  No where does it give the academic credentials of the reviewers.   The Best Prostate review claims that there are two "cons".
ConsumerHealthDigest.com states:
"The Cons of Best Prostate Beta-Sitosterol
There is little to no information related to the facilities in which the product is manufactured
The product is yet to get its FDA approval"
Facts about Best Prostate not ConsumerHealthDigest.com Lies:
This is false:  On every bottle of Best Prostate ® it states that the product is manufactured in a GMP Registered Facility.  In addition dietary supplements do not get FDA approval!   This suggests that the products the site recommends have FDA approval.  Obviously Mark Simms (the alleged author) is not qualified to review or write about supplements or he would know this.  Nowhere will you find the writer's credentials that would qualify him to review one product from another.  You the consumer need to beware of these sites.
ConsumerHealthDigest,com illegally uses an old image of Best Prostate in violation of the DMCA which misrepresents the product.  The product image used is from 2010.  This label was discontinued over 8 years ago.  On January 13, 2011 the manufacturer on the label was changed and the corporation IMS Supplements, Inc. was endorsed and filed by the Secretary of State of the State of California.
In the next section ConsumerHealthDigest.com gives fraudulent misinformation about the use and precautions.  We are in the process of having legal counsel contact and address these issues.
Please visit http://bestprostate.com/label/ to get the truth about what's in Best Prostate.
ConsumerHealthDigest.com brought to you from Nagpur, India
ConsumerHealthDigest,com Ownership and location of it is in India. Registry Registrant ID: Registrant Name: Donna Begg Registrant Organization: Consumer Health Digest Registrant Street: 15, Software Technology Park, Link Road, Sadar, Registrant City: Nagpur Registrant State/Province: Maharashtra Registrant Postal Code: 440001 Registrant Country: INDIA Registrant Phone: +91.7123255222
The website now hides it's ownership as Privacy Protect LLC and
Public information above can be found here:  https://whois.easycounter.com/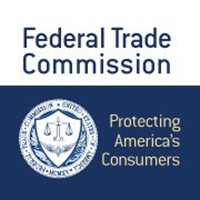 Get the truth about prostate formula reports, reviews, and rankings.  Consumers do not realize these websites are advertisements and receive compensation for the products ranked and reviewed.  The most important thing a consumer can do is look for the FTC disclosure, which is a legal requirement.  Protect yourself. The disclosure allows you to make an informed and educated choice about what they are being told or sold. This is especially true with health products and prostate formula reports and rankings.
Does the product I'm buying really have those ingredients in the amount stated?
There is only one way for a consumer to insure that a supplement or prostate formula meets FDA label claims.  Confirm that the product is made in a registered or certified GMP manufacturing facility.  When a product is manufactured in a GMP registered or certified facility it is manufactured under strict FDA guidelines.  Both a chemical and quantitative analysis is performed and documented and remains on file for FDA review. GMP manufacturing facilities have FDA reviews to confirm compliance. When a manufacturing facility fails an FDA audit they are fined, lose their certification, and are prosecuted.
Websites that rank one product as better than another.
Websites that rank and appear to review Prostate Supplements or health products should be  a signal for you to be cautious. Look for a posted disclosure. Celebrities are regularly paid to endorse products. When you see a celebrity or well known television personality, look for a required disclaimer. Websites are legally required to contain an FTC disclaimer. These ranking and review websites are sponsored (sites that simply are Advertorial aka advertising). You the consumer need to know this. No quantitative analysis or clinical studies have been done that would allow any scientific comparison of the products that are ranked or reviewed.  The reviewing staff should be identified and have qualifying credentials (Pharmacist, Medical Doctor).
FTC (Federal Trade Commission) Compliant websites.
The following websites have legally posted FTC disclosure statements.  It is important for the consumer to read website disclosures and understand them.
http://www.prostateremedyreviews.org/gr/disclaimer.html
http://www.prostatepillreport.com/disclosure.php
The following website is FTC Compliant. We acknowledge and commend the website for compliance and the clear FDA legal notice and FTC disclosure.
(The following images are owned or licensed by Fred Buckley, Verified Nutrition, LLC, and or Digital Health Media, LLC.  The images as displayed, for consumer educational purposes to demonstrate the appropriate legal compliance of the website with FTC Disclosure statements and legal requirements.)
If you visit www.prostatereport.com you will find the publically displayed image below at the bottom of the webpage.  This shows the owner of the website and the required FDA disclaimer.  You will also note that under the Company heading you will see "FTC Disclosure"  When you click on this link the legally required public FTC Disclosure below will open up.
The image below can be found at the bottom of this websites main page.
The image below can be found by clicking on "FTC Disclosure" as shown above.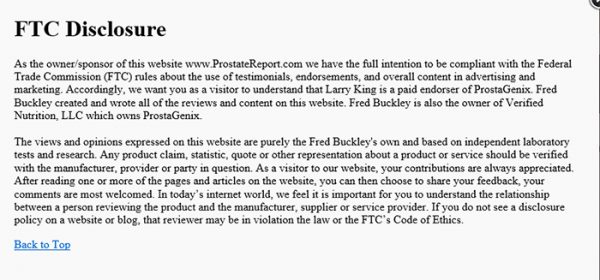 This article is about protecting you, the consumer.  When you visit a website that compares products there should be an FTC compliant disclosure as demonstrated above.  These FTC requirements protect America's consumers.  If you encounter a website that does not contain a disclosure that makes unsubstantiated claims of superiority then you should file a complaint with the FTC.  The following the a clickable link to file an FTC complaint:  https://www.ftccomplaintassistant.gov